Who is Estleman?
Interested in more about the
man behind the words?
CLICK
What does
Estleman write?
MYSTERIES
AMOS WALKER SERIES
VALENTINO SERIES
PETER MACKLIN SERIES
DETROIT CRIME SERIES
OTHER CRIME FICTION
WESTERNS
PAGE MURDOCK SERIES
STAND-ALONE HISTORICAL
WESTERNS
OTHER WORKS
NONFICTION
What else can be found on this site?
AWARDS
LIST OF WHAT WON WHICH
BOOKS
COMPREHENSIVE LIST
SPATTERS
BITS & PIECES
[ the latest books ]
Jun 2022
MONKEY IN THE MIDDLE
[ From Forge Books ]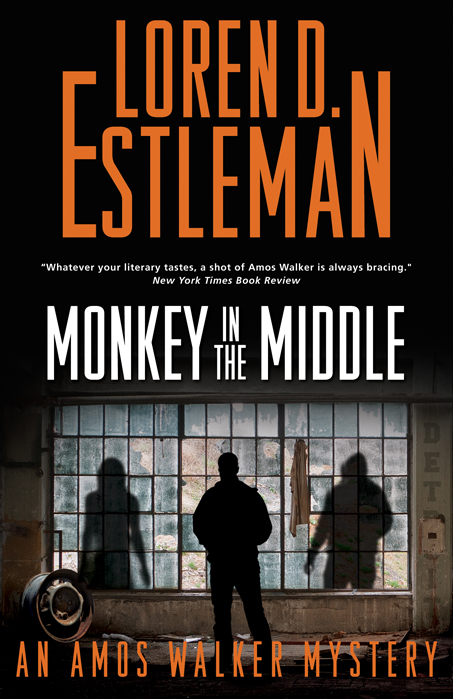 The monkey in the middle is the one who "hears no evil."
Private eye Amos Walker doesn't have that luxury. Hearing the truth, on the other hand,
is a lot less common, even from people who need his help.
"Razor-edged prose that Raymond Chandler would appreciate lifts Estleman's excellent 30th
outing for Detroit PI Amos Walker.... The portrayal of the Motor City...
is as vivid as James Ellroy's L.A. Estleman makes sustaining a long-running series'
high quality look easy." —Publishers Weekly (starred review)
---
January 2022
CUTTHROAT DOGS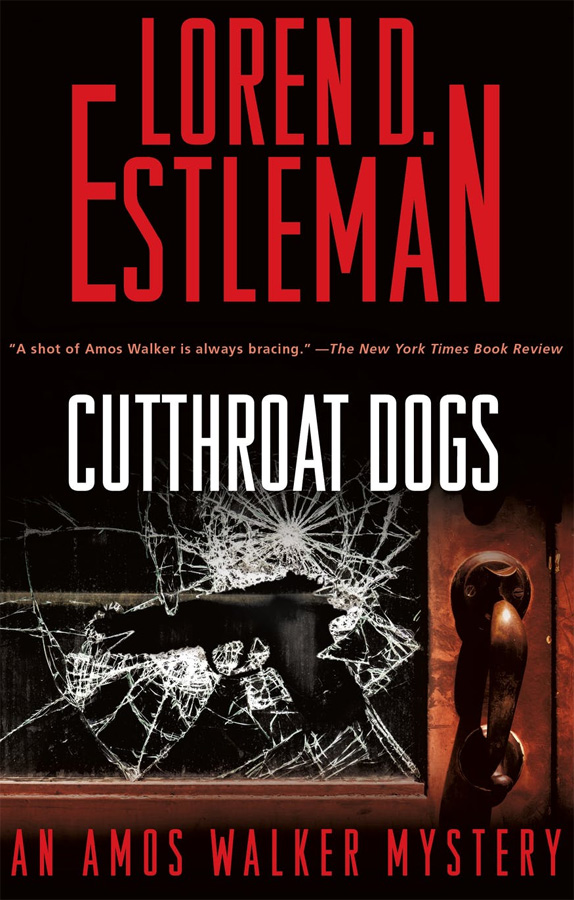 "Someone is dead who shouldn't be, and the wrong man is in prison."
Nearly twenty years ago, college freshman April Goss was found dead
in her bathtub, an apparent suicide, but suspicion soon fell on her boyfriend.
Dan Corbeil was convicted of her murder and sent to prison. Case closed.
Or is it?
"Estleman makes old-school, dogged, hit-the-pavement sleuthing plausible,
while peppering the narrative with biting prose.
This long-running series shows no sign of flagging." —Publishers Weekly (starred review)


---
March 2021
THE EAGLE AND THE VIPER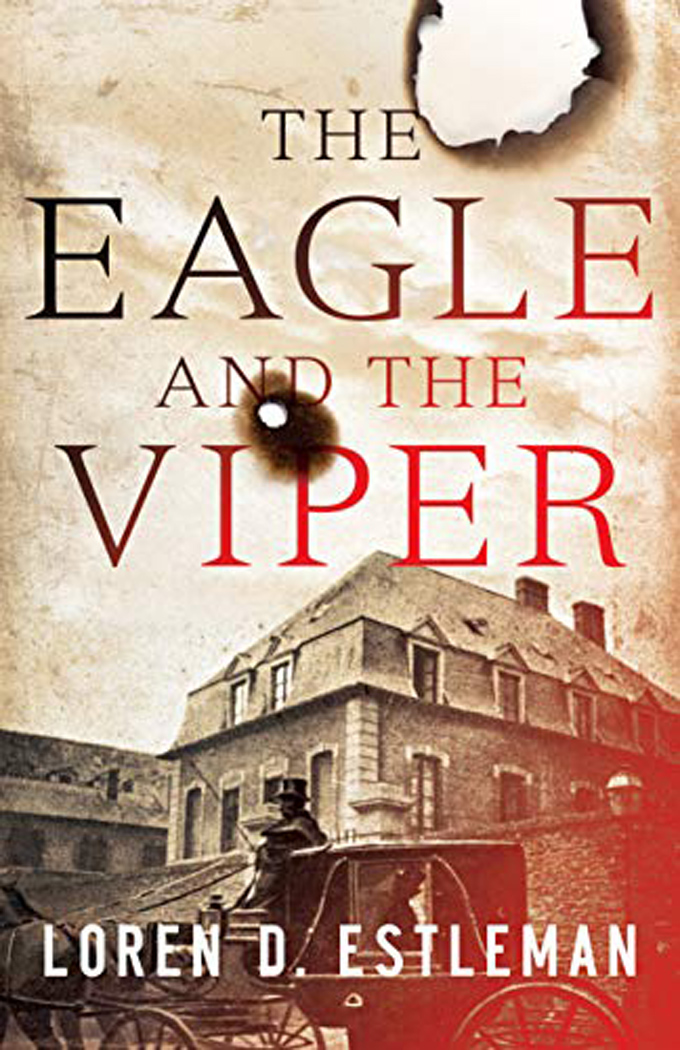 [ From Forge Books ]
Part high-octane suspense, part dire warning, The Eagle and the Viper
from multiple-award-winning novelist Loren D. Estleman
reveals how close our world came—at the dawn of a promising new century—to total war.
Praise for The Eagle and the Viper


"Fascinating premise of this standout novel... Estleman demonstrates that his versatility extends to mastery of multiple genres." —Publishers Weekly (starred review)
"A beautifully written book that is filled with historical accuracy, The Eagle and The Viper is a page-turner." —Mystery and Suspense Magazine
"Estleman mixes historical fact and fiction together so seamlessly that it's impossible, unless you're a scholar of French history, to know where one leaves off and the other begins... A fine novel, rich in historical detail and boasting a clever plot... He delivers a first-rate historical thriller." —Booklist
---


July 2020
INDIGO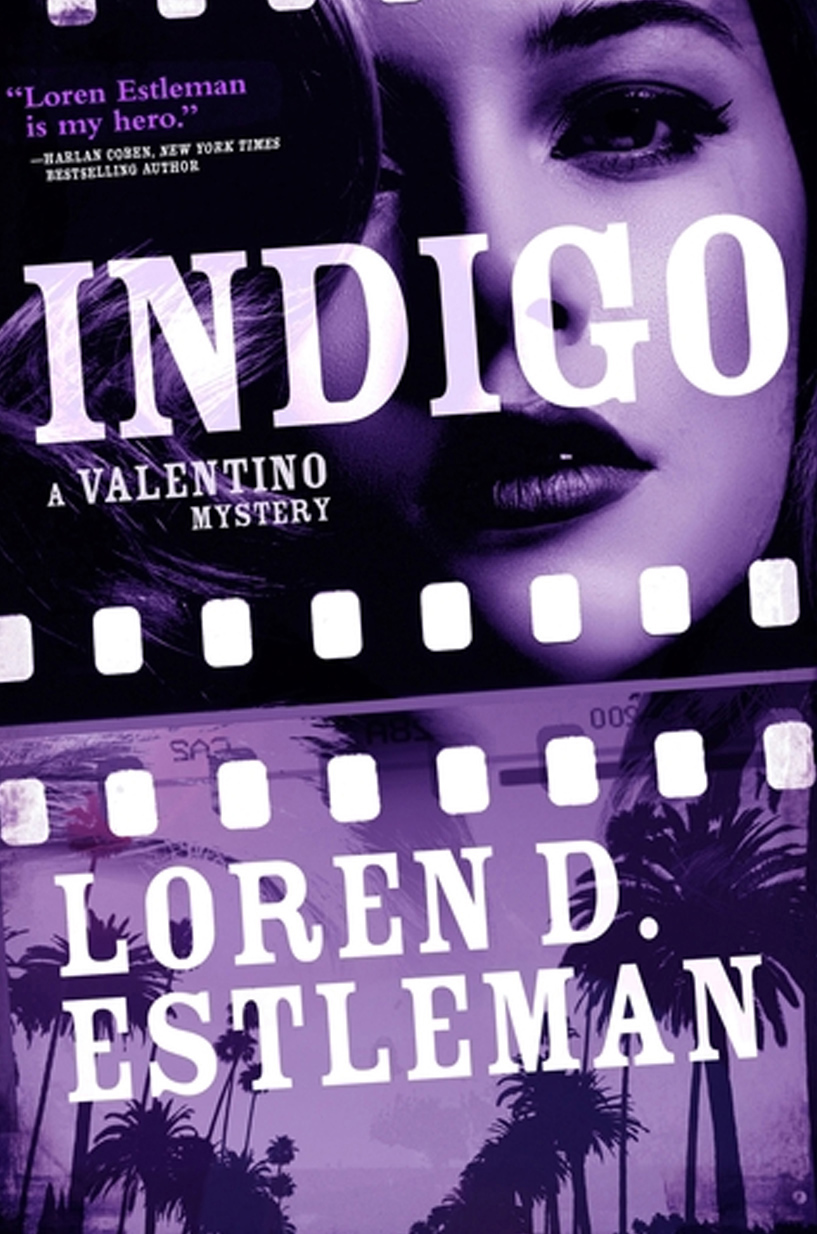 [ From Forge Books ]
Film detective Valentino is summoned to the estate of Ignacio Bozel to collect a prized donation
to the university's movie library: Bleak Street, a film from the classic noir period,
thought lost for more than sixty years.
Bleak Street was never released. Its star, Van Oliver, a gifted and charismatic actor with alleged
ties to the mob, disappeared while the project was in post-production,
presumably murdered by gangland rivals: another one of Hollywood's unsolved mysteries.
Studio bosses elected to shelve the film rather than risk box-office failure.
UCLA's PR Department is excited about the acquisition, but only if Valentino
can find a way to sell it in the mainstream media by way of a sensational discovery to
coincide with its release: "We want to know what happened to Oliver."
A simple quest for a few hundred yards of celluloid opens a portal into a place darker than night.
---
March 2018
BLACK AND WHITE BALL
[ From Forge Books ]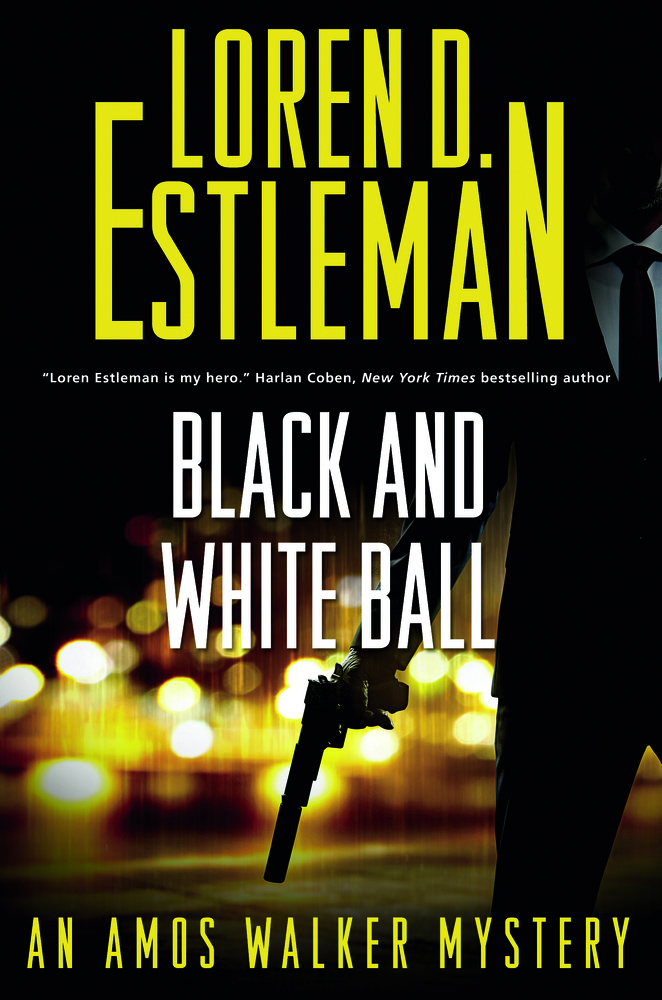 Estleman's most popular characters, PI Amos Walker and hitman Peter Macklin,
are together in one story for the first time in Black and White Ball!
Detroit hitman Peter Macklin forces private eye Amos Walker to furnish protection for Laurie, Macklin's estranged wife, while Macklin tracks down the party who has threatened to kill her. The man Walker's client suspects cannot be ignored; as his own grown son, Roger Macklin has inherited all the instincts,
and acquired all the training necessary to carry out his threat.
Told partly by Walker in first-person and partly by Macklin in third, Black and White Ball places the detective squarely between two remorseless killers, with death waiting whether he succeeds or fails.
---
November 2018
WILD JUSTICE
[ From Forge Books ]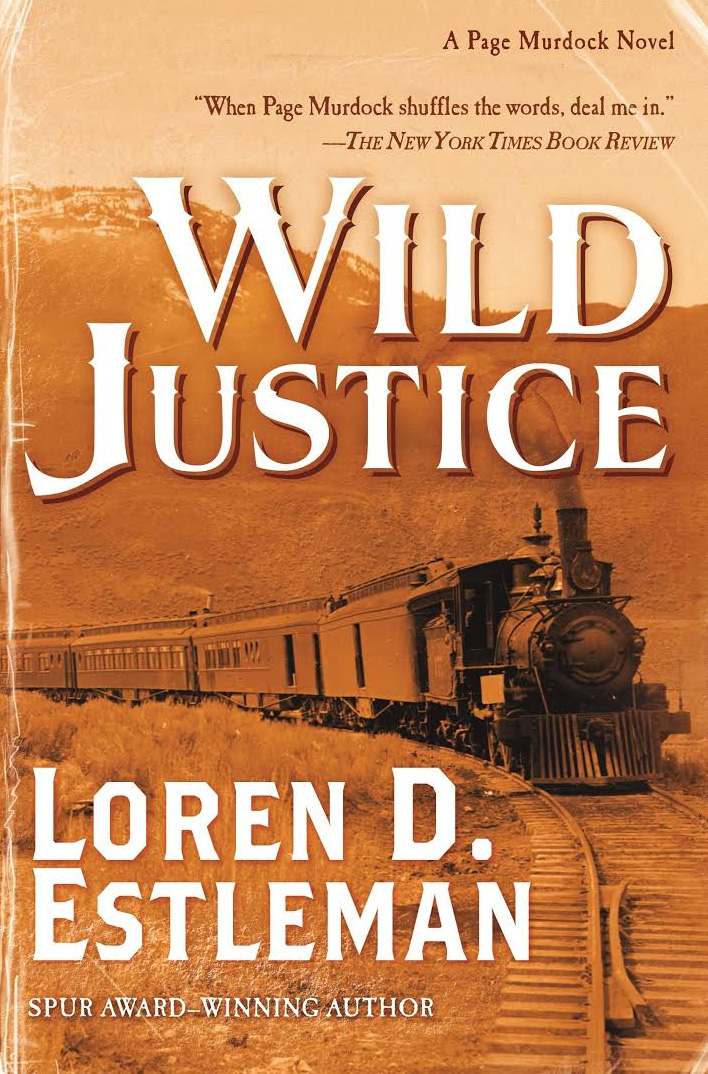 In the spring of 1896, after thirty years spent dispensing justice in the territory of Montana, Judge Harlan Blackthorne expires, leaving Deputy U.S. Marshal Page Murdock, his most steadfast officer, to escort his remains across the continent by rail.
The long journey—interrupted from time to time by station stops for the public to pay its respects and for various marching bands to serenade the departed with his favorite ballad, "After the Ball"—gives Murdock plenty of opportunity to reflect upon the years of triumphs and tragedies he's seen first hand,
always in the interest of bringing justice to a wilderness he, his fellow deputies,
and the Judge played so important a role in its settlement.
As the funeral train chugs through prairie, over mountains, and across rivers once ruled by buffalo herds, Indian nations, trappers, cowboys, U.S. Cavalry, entrepreneurs, and outlaws representing every level of heroism, sacrifice, ambition, and vice, Wild Justice provides a capsule history of the American frontier from its untamed beginnings to a civilization balanced on the edge of a new and unpredictable century.
---
Estleman's bibliomystery,
"Book Club,"
is available at The Mysterious Bookshop and is a Mysterious Bookshop Original Short Story.


"Book Club" is about the murder of a wealthy book collector and the elderly
bookshop owner who solves the crime.

Click here for the limited hardcover version (signed and numbered)
and, here for the paperback version

---
April 2016

DESPERATE DETROIT
And Stories of Other Dire Places
[ From Tyrus Books ]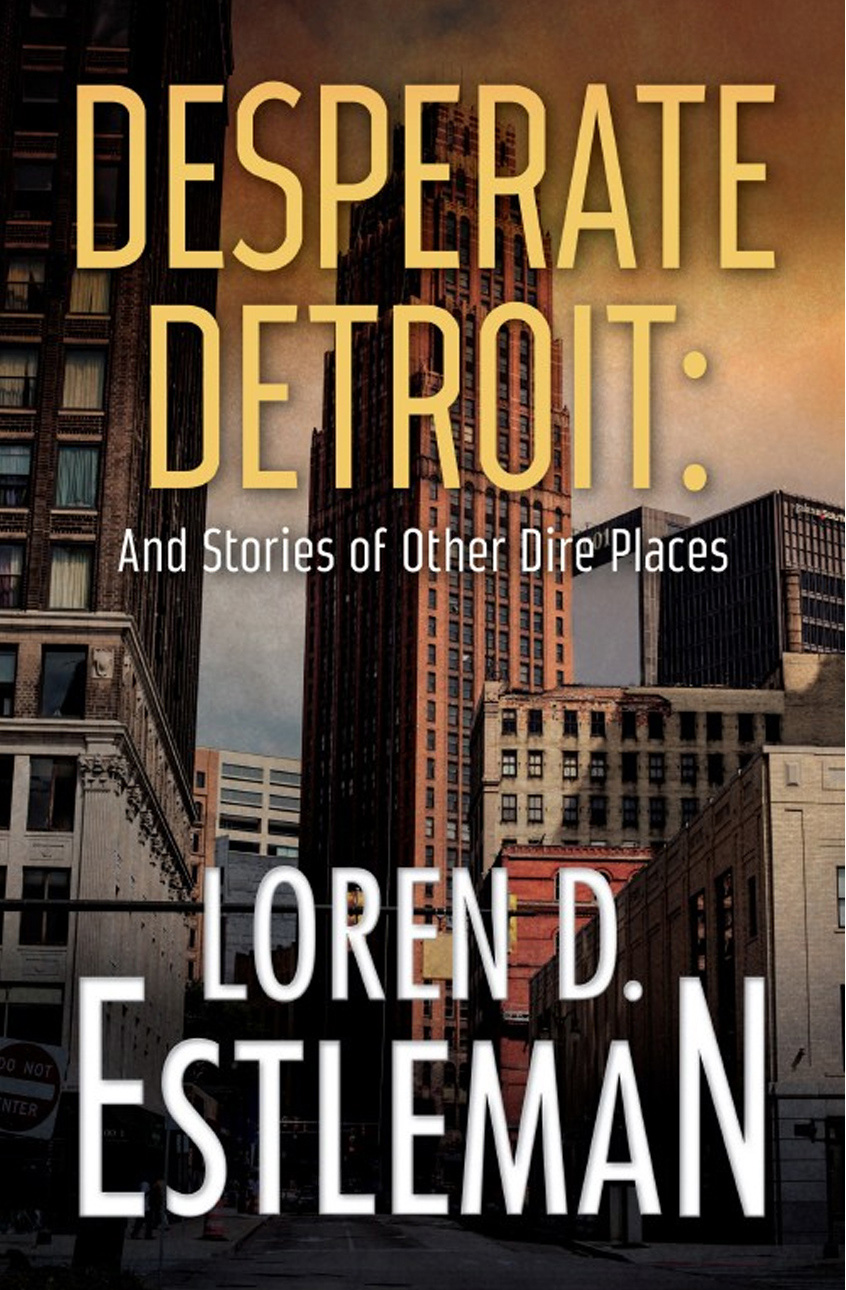 This collection represents forty years of suspense writing in the short form.
Previously published in a host of magazines and anthologies, with a new Preface and introductions
to the stories written especially for this collection, these eighteen tales feature gangsters, private eyes,
psychotic killers, hitmen, feuding families, prostitutes, prizefighters, bodyguards, corrupt cops,
the walking dead, and ordinary people driven by desperation to commit acts of violence.